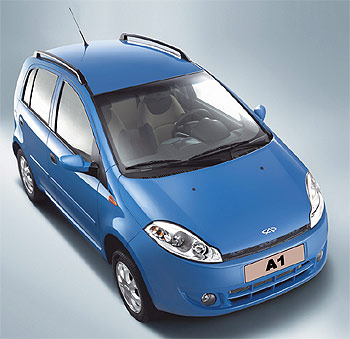 Chery is a government owned Chinese car maker with factories in the poor region of Anhui, which allows the company to pay its workers just over $1 per hour. Compare these wages with those that American car manufacturing workers earn and you will start to see why the Chinese automobile industry will be a force to be reckoned with in the near future.

The A1 model vehicle from Chery had design input from Italian car designers and engineering help from an Austrian company with the 1.3 liter engine.

Chery's official website says the following about the A1 model Chinese made car.. "Chery A1 is a fashionable household car full of innervation, which reflects the style and character of the owner. The advanced engine brings you strong power. The exterior and interior is created and designed by experts in the global auto field: internationally accepted safety design concept brings unprecedented safety guarantees."

Gordon Fairclough of the Wall Street Journal says "For Chinese customers, Chery is marketing the A1 as a car that will give them a world-class vehicle at a price (around $7,000) they can afford. Banners promoting the car in the dealership feature Caucasian models and picture the car in front of icons of Western architecture, from the Leaning Tower of Pisa to the Empire State Building and the Sydney Opera House."


The Chinese auto maker still has a lot of hurdles to leap before they get a foothold in the lucrative American car market, especially with the surge in faulty products that have been coming out of China in recent months. Fairclough of the WSJ says "One of Chery's earlier sedans fared badly in a crash test done this year by a car magazine in Russia. Chery says that the test was biased, and that the car performed better in a follow-up test in China."

The author traveled 1,700 miles through China in all types of terrain, reaching speeds of up to 100 miles an hour with four adults in the car, and was impressed by the performance of the small car. "Given the small size of the engine, it was no surprise that acceleration was a bit sluggish, especially when there were four adults in the car. And the car would benefit from more attention to the fit and finish of interior parts. The plastic cover for the passenger-side airbag didn't sit quite flush with the dashboard. And the metallic coating on the center console chipped after only a couple of days' use."

Photo of the Chinese small car from Chery Automobile, A1 - 2007 model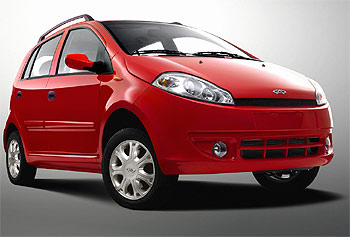 Submit Car News or Press Release
To have your auto news, car reviews, or automotive article published on AutoDealerUS.com click on the link above to submit your auto information.
http://www.autodealerus.com/..