Senior co-chairman for the NAIAS 2008 Carl Galeana said "It was a fantastic evening for children and a grand night for Detroit. The Barenaked Ladies performance was the first of its kind for the NAIAS and we are incredibly pleased with the results. Both performances by the Barenaked Ladies were amazing and we think they really gave our attendees a night to remember at Charity Preview."

Barenaked Ladies, made up of Ed Robertson, Steven Page, Tyler Stewart, Jim Creeggan, and Kevin Hearn, entertained crowds with famous songs like "If I Had A Million Dollars," "Pinch Me," "Brian Wilson," "The Old Apartment," the Billboard Number One Hit, "One Week" and more.

Since its inception in 1976, the Detroit Auto Show Chairt Preview has raised $77 million for children's charities in metro Detroit, over $60 million of that in the last ten years alone. The purchase of a single Charity Preview ticket buys merchandise, clothing, and health and support services for many local kids.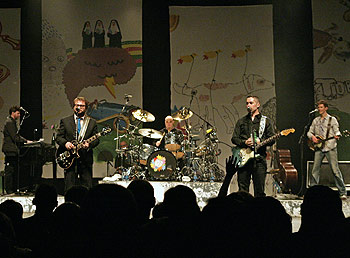 The North American International Auto Show Charity Preview has welcomed many local, national and worldwide famous people including Aretha Franklin; R&B Singer Kelis; legendary DJ Funk Master Flex; veteran artists Hall & Oates; Celine Dion; Comedians Steve Harvey and Tommy Davidson; Kevin Bacon; Kid Rock; Jay Leno; Veronica Webb; Tony Danza; Jeff Daniels; The Apprentice star Omarosa; and TV Host Rachel Ray.
Kids charities that benefited from the 2008 Charity Preview include: Barat Child and Family Services; Boys & Girls Club of Southeastern Michigan; Boys Hope-Girls Hope of Detroit; The Children's Center; Children's Homes of Judson Center; Children's Hospital of Michigan; Children's Services of Northeast Guidance Center Assistance League; the DADA Charitable Foundation Fund, a fund of the Community Foundation for Southeast Michigan; The Detroit Institute for Children; Easter Seals - Michigan; March of Dimes; and ThinkDetroit PAL.

Community Foundation for Southeast Michigan website: http://www.cfsem.org/
NAIAS website: http://www.naias.com/


Submit Detroit Auto Show News or Press Release
To have your Detroit Auto Show news, NAIAS car reviews, or automotive article about the North American International Auto Show published on AutoDealerUS.com click on the link above to submit your auto information.
http://www.autodealerus.com/..