Each of the fifty, two-person teams gathered in Dearborn, Michigan on June 24-26 represents the cream of the crop of auto tech students in their state. They are the champions out of 7,504 high school juniors and seniors who enrolled in the automobile technician competition last fall.

The 100 best high school automotive technicians from each state go head to head in the national finals of the FORD/AAA Student Auto Skills competition. The contestants compete for over $6 million in scholarships and prizes.

Allan Stanley, the Ford/AAA Student Auto Skills Manager said "While each team has a story to tell, several teams are competing under unusual or challenging circumstances this year. For example two teams include father-son competitors, and one of the fathers is a former national contestant. To the best of our knowledge this has never happened in previous years of the competition. Both members of the Mississippi team, who lost homes to Hurricane Katrina in 2005, overcame the effects of the storm to capture their state crown. The Maryland team is competing in memory of a beloved instructor who passed away earlier this year. The 2006 champion school from Texas is back for a second year. And schools from Oregon and Hawaii are breaking records by sending teams to the National Finals once again."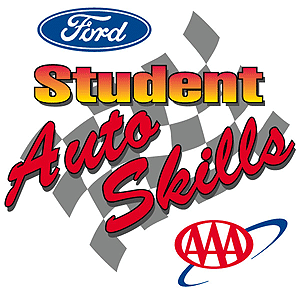 California Competitor's Father is Team Instructor
San Luis Obispo High School seniors Daniel Lehmkuhl and Austin Castro will compete in Dearborn under the watchful eye of Jeff Lehmkuhl, Daniel's father and their auto tech instructor.
Both students plan automotive careers, working with cars. Daniel, who has been hanging out at the school auto tech shop since he was 5 or 6, will attend the University of Nebraska this fall, majoring in mechanical engineering. Austin hopes to attend Universal Technical Institute.
The team logged 80 hours preparing for the state Ford/AAA competition. For the nationals, the young men have been solving simulated problems, reviewing numerous text books, and pouring over a Ford Fusion donated by a local American car dealer.
While Jeff has taken teams to finals three previous times in seventeen years of teaching, having his son part of the 2007 team makes this trip "pretty cool, pretty exciting."
Wyoming Student Following in Instructor Father's Footsteps
As did his father, Earl Smith, in 1979, Campbell County High School Senior David Smith will be competing in the national auto skills finals. But unlike his dad, who also is the instructor for the Gillette, WY, students, David and teammate Cory Moore are in the competition to win, not just have a good time.
Cory will continue his auto education this fall, studying diesel and auto for an automotive career, while David is determining his next steps. But both young men have been practicing diligently for the face-off in Dearborn.
Earl Smith, who is "proud as punch to be taking my son," says David and Cory "want to win for their school and for Wyoming." Campbell County has not sent a team to the competition in 18 years.
Katrina Victims Who Lost Their Mississippi Homes Hope for the Best in Michigan
When the American Hurricane Katrina roared through Mississippi in August 2005, it wiped out the homes of both members of the Hancock County Vo-Tech Center team, William Rickey Alley and Cody Necaise.
The Alley family rode out the hurricane with friends some distance from their house, which was inundated by water. Later they evacuated to a small town in Alabama, but after his grandmother's water-logged house was restored, Rickey returned to Bay St. Louis to live with her and complete his classes at the Vo-Tech Center.
The hurricane also destroyed the Necaise residence in Kiln, and they lived with friends until the family and volunteers rehabilitated the house. In the fall of 2006, Cody, a junior, enrolled in auto tech class. During this year's state competition, he was paired with Rickey, a senior. Rickey says he is a little more mechanically inclined while Cody is more electronically oriented, and both agree they make a good team. They plan to advance their educations and pursue careers as automotive technicians.
The Vo-Tech Center has sent a team to the nationals only once before, in 2000, also under the tutelage of Instructor Tony Adams. Adams looks forward to a few days with his students in Dearborn, far away from Hancock County, which still is recovering from Katrina.
Maryland Students Hope to Win in Memory of a Beloved Instructor
Gregory Johnson and Scott Mason won the right to represent Maryland in the finals despite the loss of their instructor, Mike Keefer, who had taught automotive technology at Carroll County Career & Tech Center in Westminster for more than 25 years.
The seniors competed in the state finals with a replacement auto instructor, John Samuels, shortly after Keefer succumbed to colon cancer. In Dearborn they will be led by still another instructor, Jeffrey Leister, as Samuels will be with his wife awaiting the birth of their first child, due June 26th.
This will be the first time the school has sent a team to the finals. Coaching the students for the finals has taken Leister away from his hobby of tin smithing.
Gregory and Scott plan to enter the Ford Motor Company ASSET program to train for auto tech careers. The competition will be a bittersweet event for the students, but they hope to bring the trophy back in Keefer's memory.
2006 National Winner Texas School Back for a Second Try
Paris High School, whose team won the 2006 finals on the Texas school's first entry in the competition, is fielding another team this year -- Junior Michael Rhodes and Senior Nicholas Finney.
Instructor Michael Schmidt, who taught last year's national winners, feels great about the 2007 team, saying, "They've been working really hard" to prepare.
Their diverse backgrounds should serve them in good stead. Mike repairs dirt track race cars and plans to train as a master technician after graduating next year, while Nick will attend Texas A&M this fall as a computer science major.
Oregon School Returns for the 20th Year
This is the 20th year that Vale, OR, is sending a team to the national finals under the guidance of Instructor Merle Saunders. His teams always finish well, and he's expecting great results from this year's team, Chase Williams and Levi Tolman, both of whom graduated just a few days after winning the state competition.
After several weeks preparing for the written portion of the exam, which counts for 40 percent of the total score at the nationals, they began pouring over a Ford car to prepare for the hands-on portion of the competition. Levi plans to train for a career in automotive or diesel and Chase is still mulling his choices.
Saunders says how they fare in Dearborn may help their decision-making. "It's a lot of work preparing for the finals," Saunders says, but also "a great experience" for the competitors.
Hawaiian School Sending a Team for the 14th Year
Maui High School teams have been representing Hawaii at the national finals for 14 years, almost annually since 1992.
When he met teammates Dustin Texeira and Brandon Sato as freshmen, auto tech instructor Neill Nakamura said, "They were not your typical 'automotive' types. I figured they would go off to college to earn an engineering degree or something along those lines."
But now Dustin and Brandon, both graduating seniors, plan to further their education at schools offering advanced automotive technology programs and are considering careers in the field. Instructor Neil Nakamura says the students "are among the most dedicated and responsible leaders in our [high school] auto shop."
The national auto finals consist of two parts, a written exam on June 25 and an exciting hands-on competition on Tuesday, June 26, which begins at 9:15 on the front lawn of Ford World Headquarters. During this timed challenge, each team races to find and correctly repair every deliberately placed "bug" in their assigned Ford Fusion, then drive across the finish line. The purpose of the competition is to encourage young men and women to embark on automotive careers. Trained automotive technicians are in high demand. For more information, visit http://www.autoskills.com.


Submit Car News or Press Release
To have your auto news, car reviews, or automotive article published on AutoDealerUS.com click on the link above to submit your auto information.
http://www.autodealerus.com/..